FREE FRIDAY BOOK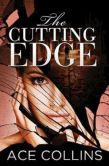 October 10, 2014: Today's Free Fridays book selection is THE CUTTING EDGE — a suspenseful, thrilling novel filled with hope, and featuring an unforgettable heroine.
Overview
Leslie Rhoads may have grown up in a small town but is on the verge of becoming a supermodel in the Big Apple, when the 24-year-old is chosen to grace the cover of Style magazine and star in the controversial Passion Nights perfume ads. But before she can step into the spotlight, Leslie is assaulted by a drug gang and disfigured with a broken scotch bottle. Without her perfect face, she is lost — and no amount of surgery can ever make her what she once was.
Now trying to hide her face from the world, Leslie encounters more trouble as she seeks to rebuild her life: unrequited love, thoughts of suicide, and her assailant out to finish the job. Little does she know that a young girl named Angel will turn it all around, showing Leslie the joy and potential in life and the fact that love truly is blind.

October 10,  2014: Today's Free Fridays app selection is RIO 2 SKY SOCCER — an action-packed game featuring flying feathered players! It's game on at the Pit of Doom as Blu and the blue macaws play a game of sky soccer against the pesky red macaws to gain control of the bird sanctuary they call home.
FREE FRIDAY VIDEO