I'm planning to head to the Santa Monica Pier for the 4th Annual S.T.E.A.M. Innovation Fair and Rube Goldberg Curious Contraption Contest on Sunday, March 5. I feel clever as heck just planning to attend and seeing the robots! The Free Festival Includes: A Contest of Student-Imagineered Rube Goldberg Machines, an Innovation Exhibition Featuring Soccer Matches between Guest-Operated LEGO Robots, and a Panel of NASA & JPL Engineers
The Santa Monica Pier
 will welcome many of the country's brightest young inventors, tech leaders, educators and students for the 
4th Annual S.T.E.A.M. Machines Innovation Fair
. This one-day event is free to the public and summons all to playfully dive into an interactive experience that connects the fields of science, technology, engineering, arts, and math.
Kicking off the event at 
11:30am
, S..E.A.M. will entertain, enlighten, and mesmerize in three ways: a 
Path to Innovation Panel
 hosting brilliant galactic and scientific minds, an 
Innovation Exhibition
 presenting a wonderland of experiential and groundbreaking delights, and the 
Rube Goldberg Curious Contraption Contest
featuring student teams from across Los Angeles and the nation.
Rube Goldberg Curious Contraption Contest
The event will feature tiers of middle school, high school, and university squads in a battle of Rube Goldberg machines – overly engineered contraptions that achieve a simple end-game through the most complicated (and humorous) paths imaginable. Inspired by the Pulitzer Prize winning inventor and cartoonist Rube Goldberg, these contraptions inspire creativity and innovation. On the Internet, they're viral video sensations, and in-person, they're mechanical magic.
Student teams from Santa Monica to Alaska are scheming big for this year's challenge – applying a Band-Aid in minimum of 20 chain reactions. Down the Santa Monica Pier, over a dozen machines will be operating in 10'x10' plots, each tinkering towards that final Band-Aid mechanism. The winning team will be judged and awarded a cash prize and entry to the national competition by a creditable committee: Lyle Tavernier (NASA Educational Technology Specialist), Hector Alvarez (Two Bit Circus Creative Director), Brett Doar (celebrated Rube Goldberg machinist), Martin Tomasz (analog/radio/mixed-signal engineer), and Heather Doyle (S.T.E.A.M. Innovation Fair Creator).
Royal Rumble of Rube
11:30AM-2PM
Teams have taken DIY machine-building to new heights as they face off & compete for the best Rube Goldberg machine that can apply a BAND-AID™ in 20 steps or more! Prize money & everlasting glory are on the line so come pick a champ & cheer them on.
The Path to Innovation
2-3:30PM
A panel of innovators, including Michelle Easter of NASA Jet Propulsion Laboratory, Jeremy Selan of Valve virtual reality, Zaina Siyed highschool robotics champion and founder of the FemSTEM scholarship will discuss the challenges of their fields and the opportunities that await!
I am a Robot!
11AM-1:30PM
Curby, Santa Monica Public Work's walking, talking recycling robot will be joining us for a limited time at the grand entrance to the Santa Monica Pier along Ocean Front Walk.
Get Your Build On
11AM-4PM
Build a fort out of cardboard boxes, a sculpture out of rolled newspaper, or help create a giant recycling machine. This day is a builder's paradise!
Swim With the Fishes
11AM-4PM 
Visit Heal The Bay's Aquarium under the Pier to check out the coolest creates and even pilot an underwater ROV mini-sub.
A notable panel of scientific wizards will enlighten folks with visionary tales, discussing challenges in their fields and revealing secrets that the future holds.
Gray Bright: Host of the 

Tomorrow

 Show, standup comedian, robotic engineer, and Lego enthusiast.
Brent Bushnell: Board President and CEO (or Chief Rabble-Rouser) of Two Bit Circus, a Los Angeles-based experiential entertainment company.
Michelle Easter: former high fashion runway model who diverted at 26 to pursue an engineering degree. By 31, she had finished at the top of her class with a degree in Mechanical Engineering and is now a Mechatronics Engineer for NASA's Jet Propulsion Laboratory.
Jeremy Selan: two-time Scientific and Technical Achievement Academy Award Winner and Valve developer making an impact in the virtual reality sector.
Zaina Siyed: local high school student, robotics champion and founder of FemSTEM – a foundation to help encourage girls to participate in STEM activities.
During the competition, innovation stations will be activated throughout the pier hosted by event partners and vendors. Each will spark curiosity and engagement from the crowds with its own brand of genius:
Columbia Memorial Space Center: guests can use LEGO robots to compete against each other at soccer.
Craig Burrows Photography: floral photography collection lauded by Wired for its 'ultraviolet-induced visible fluorescence' technique.
Heal the Bay / Aquarium / FCEC: piloting an underwater remotely operated vehicle (ROV), build boats out of aluminum foil and play around with a host of other technological gadgets.
Orchanic: showcasing an A.I. prototype that uses Deep Learning to identify trash on the beaches, the HEXA spider robot, and smart clothing.
Paisley Garbage: arts and craft vendor.
Peddler's Creamery: churn delicious homemade ice cream by a bicycle.
reDiscover Center: turn massive amounts of recycled cardboard into anything imaginable.
STEMup4Youth: guests can let their imaginations go wild by building enormous structures out of recycles cardboard.
Steve Craig's drawBot: a crowd favorite, Steve Craig returns again this year with his exceptionally popular drawing machines and more.
T4T.org: invites festival-goers to create the Ultimate Recycling Machine using their imagination, engineering skills, and some fun upcycled materials.
For more information, visit 
SteamMachinesLA.com
; search for the official event hashtag 
#SteamMachines.
S.T.E.A.M. Machines
Innovation Fair & Rube Goldberg Contest
Sunday
 • March 5 • 
11:30am
200 Santa Monica Pier,
Santa Monica, CA 90401
About The Rube Goldberg Curious Contraption Contest
Rube Goldberg was a Pulitzer Prize winning cartoonist, sculptor and author. He was the inspiration for the Rube Goldberg Machine Contest, which challenges participants to make a complicated machine to perform a simple task. The contest is an annual international competition that challenges teams of students from middle school to college age to compete in building the most elaborate and hilarious Rube Goldberg Machine.
You just can't go wrong with free usually but I must admit that I remember hearing about the Ivy series a few years ago and it left me a bit cold.  I didn't go to Harvard and my college years were pretty good if not a bit Midwest Boring (not a lot of rock & roll, drugs or big city craziness) but good.  But I've heard this is a fun read and should be appealing to younger people who are still finding themselves and navigating life.  I'm usually OK with the choices I've made .. not ecstatic but OK and since I don't have a time machine I can't change the past even if I wanted too.  Not that I'm stagnate since I'm pursuing a new career direction full speed, am working on getting in shape and being confidant as a grown woman 'of a certain age'.  As well as dating .. STILL urghh but that is what life is.  Life doesn't pay any attention to our plans and fate does have a hand in what path we eventually find ourselves.
Free Fridays: The Ivy
by 

JeremyCesarec

 10 hours ago
Categories: 

Free Fridays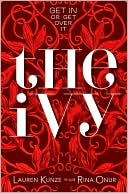 After reading today's Free Fridays selection, 

The Ivy

 by  Lauren Kunze and Rina Onur, you may actually be glad you didn't get into Harvard.
This fun Young Adult novel, written by two friends who met at Harvard, follows the trials and travails of freshman Callie Andrews. She's just arrived on campus, straight from California, and quickly finds that Cambridge brings a whole new set of challenges.
Anyone who's made some school-age mistakes will sympathize with Callie's string of bad luck—boy trouble, social miscues, getting on the wrong side of the school paper's star reporter. But her three supportive roommates are a constant reminder that college—no matter how prestigious the school—is a time for making lifelong friends who help you forget those dumb decisions, and move on to the next challenge along the road to graduation.
Three more books

 in The Ivy series follow this adventure in higher learning.
---
Free Fridays Recommends
Each week, we ask our featured author to recommend a book or author that you may want to check out. Since authors are such passionate readers themselves, we thought you might like to find out what they love to read, too! Here's what Lauren recommends:
Lately, as I work on a science fiction project of my own, I've been thinking a lot about my childhood favorite, 

Ender's Game

: the story of a young genius chosen to attend an elite military academy and defend the world against imminent destruction. This is science fiction at its most accessible, and I would urge everyone—particularly young women who think they're not necessarily fans of the genre—to pick it up and give it a try. I actually cracked the spine of my old copy: a form of unparalleled praise that can only result from countless rereading. Obviously, I've found much to admire in Ender over the years, but today the read feels particularly refreshing for its third-person narration: Card conveys Ender's interior struggles and astounding empathy while at the same time firmly holding him hostage in the machinations of the adult, military world. So, no matter your age or attitude toward science fiction—and especially to teens weary of today's ever-popular first-person narrators and love triangles—I can't recommend this one enough!