I'm so excited to see what Hasbro is bringing to San Diego Comic Con with TRANSFORMERS, MY LITTLE PONY, HANAZUKI, G.I. JOE, DROPMIX, WIZARDS OF THE COAST, Disney's Tangled The Series, Descendant 2, STAR WARS, MARVEL and so much more! It's fun for fans of all ages who've grown up loving all things Hasbro, kids and GRANDKIDS!
It's going to be days of fun at the Hasbro booth (#3213) and all around the convention center with fun Hasbro experiences for all. You can keep up to date at Hasbro's information booth each day for updates and follow @HasbroNews on Twitter and @Hasbro on Instagram for the latest happenings
within the booth. Highlights include a giant eight-foot tall statue of Songbird Serenade from the new 'My Little Pony: the Movie' and makeup artists will get you groomed with Cutie Marks and 'Ponified' hair & nails! Fans can look forward to a Transformers team Q&A session and a poster giveaway for Transformers: Generations. Following San Diego Comic Con, a limited number of each item will be available on HasbroToyShop.com.
Providing Captivating Experiences for Fans of All Ages Across Hasbro's Iconic Brand Portfolio & Premier Partner Brands with Autograph Signings, Giveaways, Exclusives and Photo Opportunities
The following highlights some of the activities for Hasbro's brands and licensed properties happening within the Hasbro booth (#3213) and around the convention. San Diego Comic Con attendees are encouraged to check the schedule posted in Hasbro's information booth each day for updates and follow @HasbroNews on Twitter and @Hasbro on Instagram for the latest happenings within the booth.
TRANSFORMERS
The TRANSFORMERS panel, held 11:00am-12:00pm on Thursday, July 20th, will get the collectors excited as the team provides an exclusive glimpse of the latest and greatest toys that have yet to hit shelves from the TRANSFORMERS: GENERATIONS POWER OF THE PRIMES product line. Fans will also be able to go behind the scenes of the TRANSFORMERS: THE LAST KNIGHT film line, as well as the movie Masterpiece Collection. In addition, members of the TRANSFORMERS team will host a Q&A session to answer some of your burning questions.
Other exciting TRANSFORMERS brand booth activities include a poster giveaway for TRANSFORMERS: GENERATIONS, along with a glimpse at upcoming products across the TRANSFORMERS portfolio.
MY LITTLE PONY
The MY LITTLE PONY brand is returning to Comic-Con this year with extra special activities for everypony as Hasbro anticipates the exciting premiere of MY LITTLE PONY: THE MOVIE, which will be released by Lionsgate on October 6th. Making her premiere at the Hasbro booth will be a dazzling eight-foot tall statue of Songbird Serenade; fans can get up close to the new character, voiced by singer-songwriter Sia in MY LITTLE PONY: THE MOVIE. Fans can also dive into Seaquestria with a one-of-a-kind photo opportunity or get "Ponified" at the Hasbro booth at special "Ponification Stations" where make-up artists will apply Cutie Marks and "ponified" hair and nails for fans of all ages.
The MY LITTLE PONY panel on Friday at 10:30 a.m. will feature the cast and creatives behind MY LITTLE PONY: THE MOVIE and will include a sneak peek at the upcoming film followed by a Q&A. Word around Equestria is that there may be a surprise guest! After the panel, fans can meet the MY LITTLE PONY: FRIENDSHIP IS MAGIC voice talent for an autograph signing in the Hasbro booth.
Other exciting MY LITTLE PONY brand booth activities include giveaways each day, nail art demos featuring China Glaze's new MY LITTLE PONY nail polish collection, autograph signings with voice talent, Little Brown authors and Enjoi Skateboarding artists, a live drawing session with IDW artists, and more.
MAGIC: THE GATHERING

This year, MAGIC: THE GATHERING fans will be treated to a series of high profile autograph sessions at the Hasbro Booth with game designer James Wyatt at 4:00 p.m. on Thursday, head designer Mark Rosewater at 10:00 a.m. and artist Tyler Jacobson at 2:00 p.m. on Friday, and artist Brandon Holt at 11:00 a.m. on Saturday. Holt illustrated the screen print of Nicol Bolas, produced in collaboration with Mondo and part of the brand's Comic-Con exclusive 2017 Planeswalker Pack. The exclusive also includes six Planeswalker cards with artwork from Vincent Proce. The set will retail for $180 and is available at the Hasbro Toy Shop.
Rosewater will also appear at a one-man panel on Saturday at 6:30 p.m. in Room 25ABC in which he re-creates his popular blog about MAGIC: THE GATHERING, "Blogatog," and participates in an audience Q&A.
MARVEL
Hasbro will offer fans several exciting brand experiences surrounding their favorite Super Heroes
and Villains from the MARVEL Universe. On Saturday, July 22nd from 5:00pm-6:00pm, Hasbro and MARVEL will discuss exciting news around Hasbro's popular MARVEL Legends lineup. Attendees will also get a sneak peek at upcoming MARVEL action figures, followed by a Q&A.
Additional Hasbro MARVEL brand booth activities include an autograph session with Joe Quesada – comic book artist and editor, Chief Creative Officer of Marvel Entertainment, and Executive Producer of Daredevil, Jessica Jones, Luke Cage, Iron Fist, and MARVEL'S Agents of S.H.I.E.L.D. and Agent Carter. Joe also provided new original art for Hasbro's MARVEL LEGENDS SERIES 12 INCH DAREDEVIL convention exclusive. There will also be an autograph session with Magic: The Gathering artist Tyler Jacobson also who created the epic packaging art on Hasbro's MARVEL LEGENDS SERIES BATTLE FOR ASGARD 5-PACK convention exclusive.
STAR WARS
Hasbro will share its latest STAR WARS news from a galaxy far, far away with fans from 1:00pm-2:00pm on Friday, July 21st, providing an in-depth look at Hasbro's latest action figure offerings and several fun surprises including a special product reveal. The Hasbro STAR WARS team and designers will also host a Q&A with fans in the audience following the presentation to address the latest product news.
At the Hasbro booth, fans can partake in daily Lightsaber Training, show off their best Star Wars cosplay at the STAR WARS Costume Showcase and will also have the chance to get their hands on a poster giveaway (while supplies last) only available at the Hasbro booth in collaboration with diorama artist Stephen Hayford.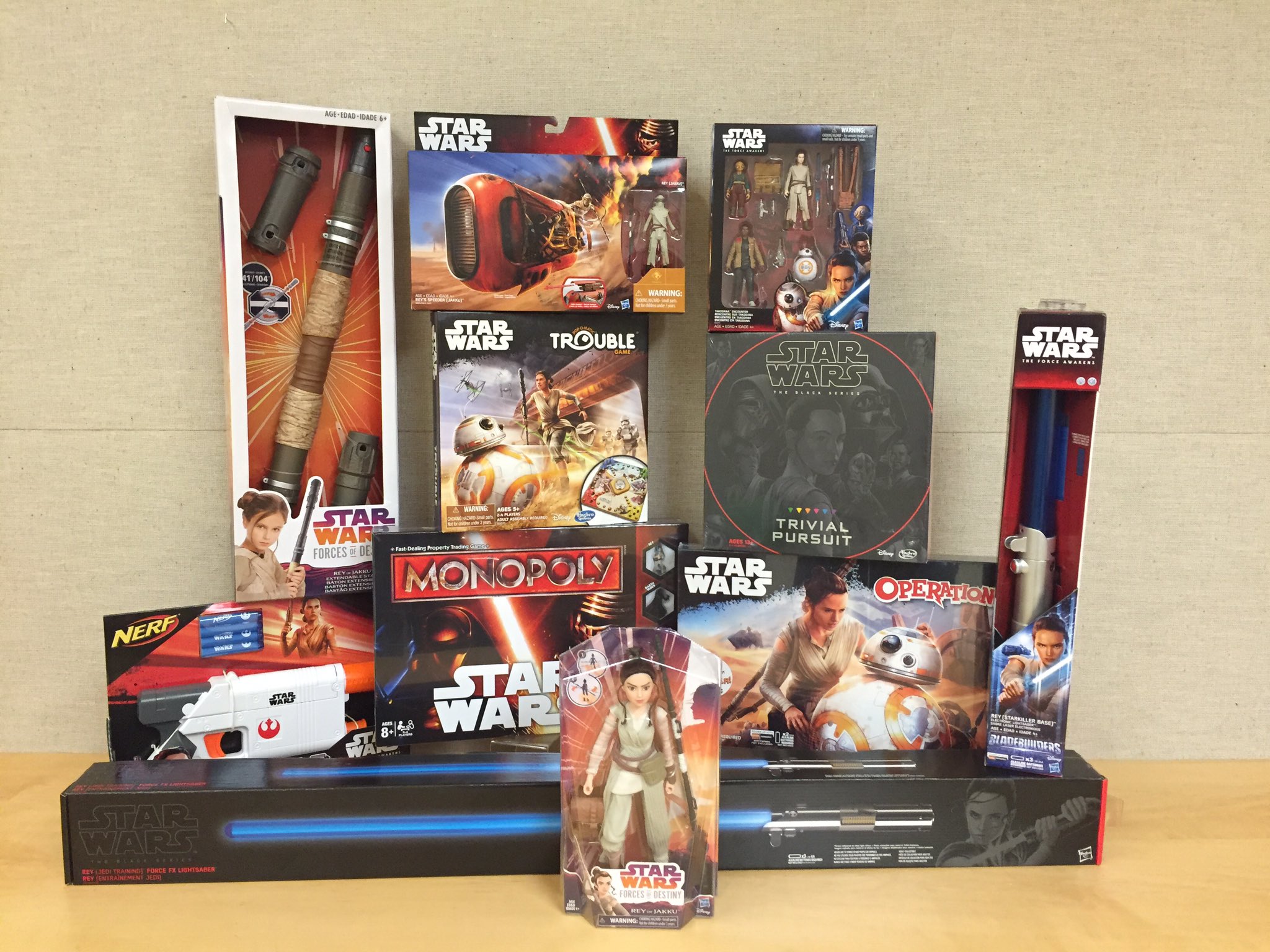 About Hasbro
Hasbro (NASDAQ: HAS) is a global play and entertainment company committed to Creating the World's Best Play Experiences. From toys and games to television, movies, digital gaming and consumer products, Hasbro offers a variety of ways for audiences to experience its iconic brands, including NERF, MY LITTLE PONY, TRANSFORMERS, PLAY-DOH, MONOPOLY, LITTLEST PET SHOP and MAGIC: THE GATHERING, as well as premier partner brands. The Company's Hasbro Studios and its film label, Allspark Pictures, are building its brands globally through great storytelling and content on all screens. Through its commitment to corporate social responsibility and philanthropy, Hasbro is helping to make the world a better place for children and their families. Hasbro ranked No. 1 on the 2017 100 Best Corporate Citizens list by CR Magazine, and has been named one of the World's Most Ethical Companies® by Ethisphere Institutefor the past six years. Learn more at www.hasbro.com, and follow us on Twitter (@Hasbro & @HasbroNews) and Instagram (@Hasbro).
STAR WARS and related properties are trademarks and/or copyrights, in the United States and other countries, of Lucasfilm Ltd. and/or its affiliates. © & TM Lucasfilm Ltd.
About Marvel Entertainment
Marvel Entertainment, LLC, a wholly-owned subsidiary of The Walt Disney Company, is one of the world's most prominent character-based entertainment companies, built on a proven library of more than 8,000 characters featured in a variety of media over seventy-five years. Marvel utilizes its character franchises in entertainment, licensing and publishing. For more information visit marvel.com. © 2017 MARVEL
SaveSave
Wahoo look at these cool 2017 SDCC exclusives that appeal to my inner fangirl! So much cool SDCC Exclusives that I had to post about MORE items I want to add to my collection. What items do you want to buy …. Leave a comment below maybe I'll pick it up for you ..
Marvel Gallery PVCs
Marvel Gallery Dark Phoenix PVC Diorama
The Phoenix rises as one of the first members of the Uncanny X-Men, Jean Grey, embraces her full power as the telepathic/telekinetic host of the Phoenix Force! Standing approximately 10 inches tall, this diorama shows a possessed Jean in her red costume, hovering over a fiery Phoenix symbol! This PVC figure features detailed sculpting and paint applications, and comes packaged in a full-color window box. Sculpted by Alejandro Pereira. $45.00
Pop! Television: The Tick –The Tick (Glow-in-the-Dark)
Be prepared when The Tick hits Amazon Prime Video on August 25th with this SDCC exclusive glow-in-the-dark Tick Pop! Neat!
Limited to an edition of only 1,500 pieces, each Bif Bang Pow! talking bobble head is individually numbered with the production run number on a holographic sticker.
The first opportunity fans can grab this individually numbered and limited-edition exclusive will be at San Diego Comic–Con on July 20, 2017 in the Entertainment Earth booth (#2343)!
Where are they…? Where are my DRAGONS?!
Fear not Daenerys, they're here!
You may not have her armies or ships, but if you act quickly, you can have her dragons! For the first time ever we're thrilled to offer all 3 Game Of Thrones Dragons in a limited edition convention exclusive box set! Featuring cute and cuddly versions of Drogon, Rhaegal and Viserion, these 5″ plush dragons are ready to loyally defend their master!
Limited to 1,000 pieces.
Available to pre-order now at http://www.factoryent.com or at San Diego Comic-Con, Booth # 2647 July 19 – 23, 2017. While supplies last.
I'm ready to take a BITE from the toddland booth (#4537 by Warner Bros) at San Diego Comic Con 2016 with all the cool Bob's Burgers exclusive! 
You can purchase wave one of your toddland exclusives right now and pick them up at SDCC starting on Preview Night! toddland items can be picked up all during comic con BUT (big BUT) they will not ship or refund so make sure when you order that remember to pick all your cool Bob's Burgers Comic Con exclusives! They will accommodate purchasers by allowing a friend to pick up the order but you MUST write their name/info in the notes section of your ORDER so that they can release them. 
This year the toddland's booth is set up exactly like the beloved animated series Bob's Burgers so make sure you swing by, take a selfie and pick up a t-shirt or any of the 20 exclusives available at SDCC ONLY! they will also have a Wave 2 of new SDCC Exclusives that will include shoes, a light up plus and a wallet
Louise Bunny Ears Fleece ($64): This awesome hoodie is very limited, and once it's gone, it's gone – so make sure you grab yours now. Not only does it feature Louise's iconic bunny ears, but the interior also features screenprints of kuchi kopi and ketchup and mustard bottles.
Louise hoody interior details
Equestra-Con T-Shirt ($28): Available in purple and/or dark gray, you can show your love for all things EquestraCon with this awesome shirt. Equesticles unite! Bronconius is gonna be so jelly.
Restaurant Camp T-Shirt ($28): Available in blue, brown, or green.  Because not all of us got to go to horse camp.
Restaurant Camp Green
Restaurant Camp Brown

Restaurant Camp Blue
Gayle of Thrones T-Shirt ($28): Relive the iconic season 5 episode – and mash-up of two of your favorite things – through this Gayle of Thrones t-shirt.  Cat Dragons for the win!
San Diego Comic-Con Queso Burger of the Day T-Shirt ($28): It's the Bob's Burgers Burger of the Day – the San Diego Comic-Con Queso Burger! The shirt boasts the restaurant logo on the front, and the special SDCC burger sign on the back just for Comic-Con!
Front of Shirt
Front of Shirt Zoom
Back of Shirt
Back of Shirt Zoom
I want the shoes but they are sold out! <boo hoo> So am feeling the sweatshirt! What items are on your must buy NOW list? Let me know in the comments below want …..
.