IndieCade Festival 2017 is accepting submissions for festival and showcases for East and Europe
IndieCade is a great platform for independent game makers from across the world that has a competition to showcase indie games and interactive media with innovative games unlike anything you might see anywhere else.
Who:               Independent Game Developers, Designers, and Artists
What:                         Games and Interactive creative. Finished games as well as work-                            in-progress projects can be entered.
When:             Regular Submissions are due by April 30, 2017
Late Submissions are due by June 15, 2017
Where:            www.IndieCade.com/Submissions
Details:           For complete details, submission criteria and how to submit your                              game, visit www.IndieCade.com/Submissions.
ABOUT INDIECADE
Applauded as the "Sundance of the videogame industry," IndieCade supports independent game development globally through a series of international events highlighting the rich, diverse, artistic and culturally significant contributions of indie game developers. IndieCade's programs are designed to bring visibility to and facilitate the production of new works within the emerging independent game community. Annual events include IndieCade East, IndieCade Europe, IndieCade's Showcase @ E3, and IndieCade Festival, the largest gathering of independent game creators in the nation.
Mark your calendars and open your wallets to support the Women's Clinic with a screening of White House Down at the Sony Lot!  Who can resist two hot guys AND helping people have access to affordable healthcare???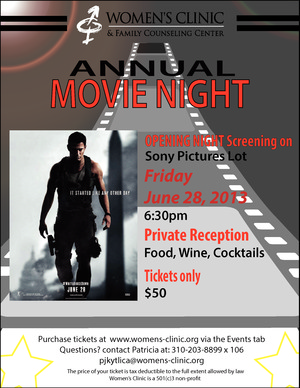 We're having MOVIE NIGHT again!
 We're screening White House Down….Friday, June 28th at 6:30 pm on the Sony Lot
PLEASE, send the invite to all of your friends.  We look forward to truly growing this event…………
We'll have yummy food at the Sony Commissary beforehand, and that's always a party…………
JOIN US !!!  We'll look forward to seeing you and sharing what YOUR contributions have made happen to date……….
THANK YOU – THANK YOU – THANK YOU
Click below to purchase your tickets

If you do not have a PayPal account, or prefer another method of payment
Women's Clinic will happily take a check made out to:
Women's Clinic (Attn: Patricia Kytlica)
9911 W.Pico Blvd
Los Angeles, CA 90035
or feel free to call in your credit card personally to
Patricia Kytlica @ 310-203-8899 ext. 106
Further instructions and directions to the event will be provided upon the purchase of a ticket
If you were waiting in line for panels you may have missed out on all the cool stuff outside the convention center.  I stayed at 500 West a hotel not too far from the Amtrak station so I do quite a bit of walking during the convention so got to see all of the off-site fun.  One of the most fun experiences I've had at any SDCC ever was the A&E TV Coma Immersion Experience where I was able to speak with Ms. Lori Peterzell about the upcoming series and the SDCC Coma Immersion Experience.  It was really unlike anything I've ever seen because it's such a creative way to really have you experience the new mini-series.  Of course you may have seen the original film from the 70s but this looks like a major reboot.  Of course when you have the creative minds of Ridley and Tony Scott you know this is going to be a well done provocative film especially since AETV is broadcasting!
Now if you were unable to attend SDCC and see the Coma Experience you can see it through my eyes.  Now when I say 'eyes' I mean my camera! So come along as I enter the 2012 SDCC AETV Coma Experience.  We'll enter past the lobby area where your checked in at the reception area and enter the lobby of the Jefferson Institute.  What's going on in that secretive medical institute is it to help humanity or something nefarious?  You can satisfy your curiousity at the online Coma Experience where you can see it from the eyes of the hacker activists that are out to take down the Jefferson Institute by joining them and the digital game that will allow you to join the Coma Conspiracy against the Jefferson Institute that has friends in powerful places and the money to fight off interlopers!  This will help to stoke the flames of curiosity until Coma the mini-series on A&E TV starts this Labor Day!