Say goodbye to summer and HELLO to fall this Labor Day weekend with the L.A. Times the Taste 2017! It's days and nights fully of delicious food from the best chef's in LA.
This adult only event is a blast perfect for couples, friends and singles looking to mingle so make sure your style game is on point! You'll need to look your best for the conversation with chefs who discuss how the fell in love with cooking, food inspiration and cuisine! I'm very excited to hear and taste food from Jenee Kim talk about Parks BBQ (Korean), Pawan Mahendro talk Indian
cuisine Badmash, Ron Finley will talk about gardening and Breana Jackson of Sugar and Spice: Baked by Bre a self taught baker. Did I mention that Machete himself is going to talk with Jonathan Gold about tacos and doughnuts???
KICK OFF THE TASTE WITH A VERY SPECIAL EVENING
Hosted by All The Taste's Hosts and Co-Hosts: Fri., Sept. 1, 7:30 – 10:30 p.m.
Enjoy an opening night soirée mingling with The Times' hosts along with many of the weekend's participating chefs and bartenders. You'll partake in a focused collection of tastings, distinctive cocktail and wine offerings. To maintain the intimate nature of the evening, only a limited number of tickets are available.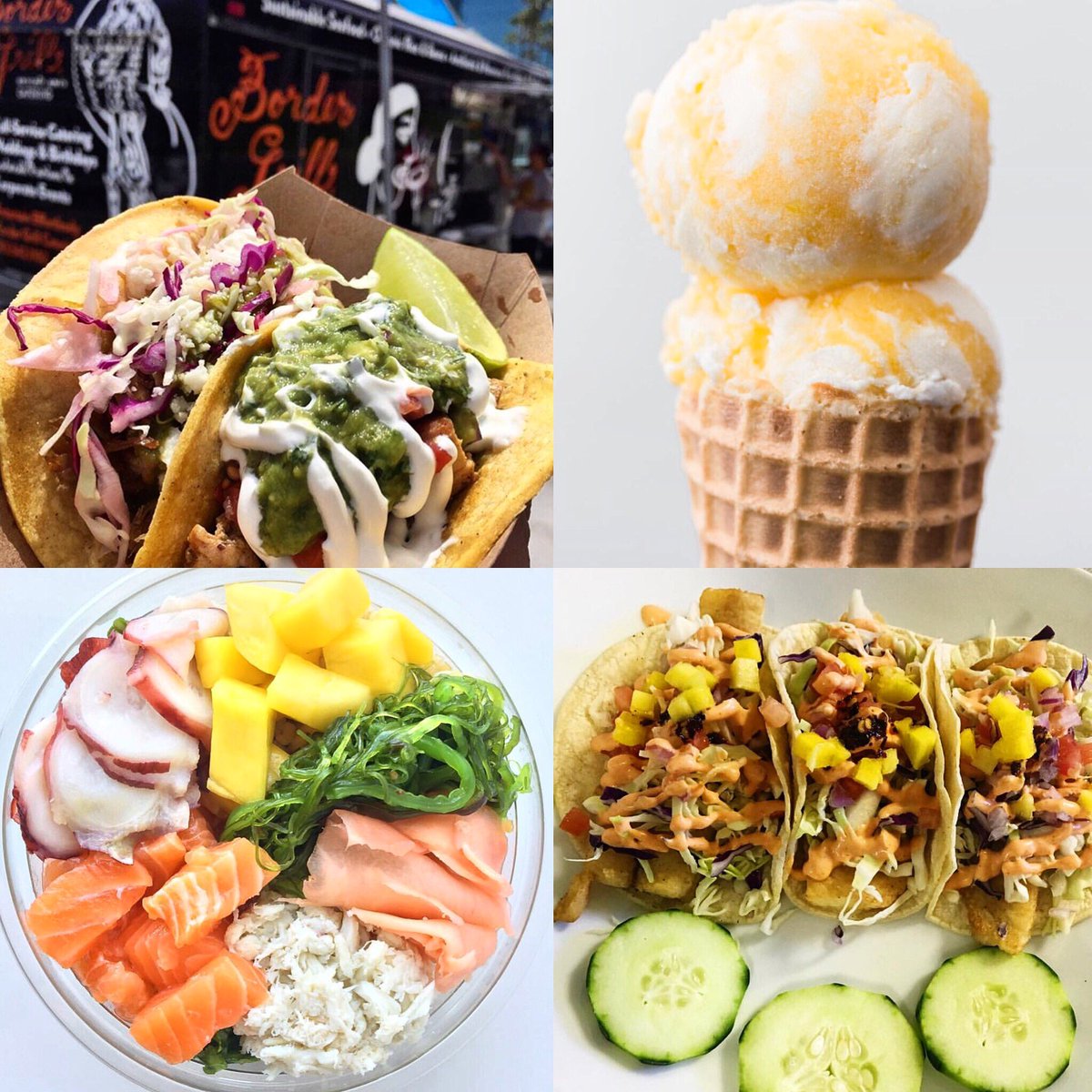 Field to Fork – Hosted by Amy Scattergood, Times Food Editor, and Sang Yoon, Chef/Owner of Father's Office and Lukshon; Sat., Sept. 2, noon to 3 p.m.
Inspired by Southern California's agricultural roots and DIY attitude, Yoon and Miles Thompson (Michael's) will each share their farmers market savvy through individual cooking demos using their favorite bright and flavorful ingredients. Scattergood will lead a discussion about the importance of farms and eating local with Romeo Coleman (Coleman Family Farms), Alex Weiser (Weiser Family Farms) and Wes Whitsell (Manuela). Restaurants include Aqui es Texcoco, Banh Oui, Cento Pasta Bar, Coni'Seafood, Cruciferous, M Café, Maury's Bagels, McConnell's Fine Ice Creams, Robert's Catering Service and VCHOS Pupuseria Moderna. BUY TICKETS
Sunday Block Party – Hosted by Noelle Carter, Times Test Kitchen Director, and Sherry Yard, Chef/Owner ofTuck Room Tavern; Sun., Sept. 3, noon to 3 p.m.
Great food and good times are the order of the day at the block party on the backlot, where Yard will demystify pastry-baking for home cooks and David LeFevre (Manhattan Beach Post) will give a master class on making biscuits. Carter will host a talk with Chris Phelps (Salt's Cure) about what it means to brunch at some of the most innovative spots around town, with additional panelists to be announced. Restaurants include Cheezus, Cocobella Creamery, E.A.K. Ramen, Hotville Chicken & Chops, Hummus Yummy Food Truck, MessHall, Otium, Rosaliné, The Butcher's Daughterand Tuck Room Tavern. BUY TICKETS
Dinner with a Twist – Hosted by Jonathan Gold, Times Restaurant Critic, Jenn Harris, Times Deputy Food Editor, Antonia Lofaso, Chef/Owner of Scopa Italian Roots and Black Market Liquor Bar, and Marco A. Ramos, Mixologist at Scopa Italian Roots; Sat., Sept. 2, 7:30 to 10:30 p.m.
L.A.'s dining and cocktail culture takes the stage with a chef-bartender demo by Lofaso and Ramos, and by Allan Katz and Jonathan Whitener (Here's Looking At You). Breana Jackson (Sugar & Spice: Baked by Bre), Danielle Bennett (Lady on the Rocks), Derrick Lewis (Not Your Mama's Kitchen) and Chef E Dubble (E Dubble Catering/Grilled Fraiche) will celebrate urban gastronomy with a collaborative showcase of their signature concoctions, and Meredith Hayman (Michael's), Gabriella Mlynarczyk (Accomplice Bar) and Brynn Smith (Sotto) will shake it up with a group demo. Restaurants include Barrel & Ashes, Beauty & Essex, Black Market Liquor Bar, Faith & Flower, Mayura Indian Restaurant, Pedalers Fork, Scopa Italian Roots, Szechuan Impression, The Bellwether, The Ponte and Wolf. BUY TICKETS
Flavors of L.A. – Hosted by Jonathan Gold, Times Restaurant Critic, and Gilberto Cetina Jr., Chef/Owner ofChichen Itza and Holbox; Sun., Sept. 3, 7:30 to 10:30 p.m.
Closing night of The Taste embraces the depth and diversity of flavors that make Los Angeles one of the most exciting places to dine through demos by Cetina, Wes Avila (Guerrilla Tacos) and the team behind Badmaash: Pawan, Nakul and Arjun Mahendro. Gold will explore Korean barbecue with masters of the grill: Jenee Kim (Park's Barbeque) and Chris Oh (Seoul Sausage Co.). Restaurants include Chichen Itza, Frankland's Crab & Co., Gus's World Famous Fried Chicken, Holbox, Luv2eat Thai Bistro, Meals by Genet, Pasta Sisters, Revolutionario North African Tacos, Same Same and Worldwide Tacos. BUY TICKETS
Yum yum are you counting down the days for the 2015 The Taste at Paramount Studios? It's the fun foodie event for people who want to foods from all over SoCal in one place. I find one of the best things about attending this food festival at Paramount Studio over Labor Day weekend is that it gives you an opportunity to try not only restaurants but also bakeries, desert shops and ICE CREAM! Hey it's summer in LA so you know it's HOT! I've had the opportunity to chat with some of the chefs at my favorite restaurants and ask how not only how they started to cook but get some cooking advice. Of course I can't forget to say that I get to try delicious food! It's a win win for everyone but especially your tummy! Check out my video from the 2014 The Taste at Paramount Studios! I discovered yummy buns with delightful flavors from green tea to macha that were Philippine recipes from their grandma! (you can order them online), saw an old foodie friend B Sweet Dessert Bar (dessert truck and store) with new bread pudding flavors (favorite is still Red Velvet! YUMMY) and Crème Caramel LA (it was the first time I ever tried Crème Caramel and I fell in LOVE). This year they've changed the schedule with a brunch & BBQ on Sunday (you can NEVER go wrong with grilling!) am hoping to try some new coffee and ideas for brunch items!
Meet the co-hosts and check out our schedule of events.
Sample the culinary creations of L.A.'s most talked about restaurants and enjoy a wide selection of wines, beers and spirits at the only food and wine festival that's authentically L.A.
9 August, 2015
Tags:
BBQ
,
beer
,
beers
,
Brunch
,
Canele
,
Carlos Salgado
,
Chef
,
Corina Weibel
,
culinary
,
Dinner with a twist
,
Field to fork
,
Flavors of LA
,
Foodie
,
Gary Menes
,
Hollywood
,
Le Comptair
,
Los Angeles
,
Los Angeles Times
,
Love & Salt
,
Michael Fiorelli
,
Mixologist
,
Paramount Pictures Studios
,
restaurants
,
spirits
,
Sunday Brunch
,
Taco Maria
,
taste
,
TasteLA
,
The Taste
,
The Taste LA
,
Vincenzo Marianelli
,
wine
So how did you spend your Labor Day weekend?  I got to enjoy the sun, food and drinks at the Los Angeles Times the Taste at Paramount Studio.  This is the second year of the affordable food festival and had a few changes from the first year (multiple venues across town).  Instead the decision to keep it at one location made it simpler for attendees and am sure the vendors who participated. Hmmmm all of the food was good but some booths really stood out for me.  Sysco had an oasis where everyday they served up delicious steak that they sell to high end restaurants.  So they blew me away since I didn't know very much about their level of service.  When I think of Sysco it's that they supply business cafeterias, schools and volume retailers but that they have this kind of steak.  Let me just say they got to know me since I was sampling to my hearts content and as an Iowan (born and raised) I KNOW a good cut of steak and by dang they had some great steak!  Now I just didn't go crazy at Sysco and eat the well seasoned, perfectly grilled steak they had out every day NO SIR I also tried vegetarian and vegan options.  One booth where I enjoyed healthy fare was Tender Greens a local restaurant with two locations (Pasadena & Culver City).  I enjoyed the salad and little cake that I asked them a few questions about the tasty food for my Tender Greens @youtube channel.
My favorite sweets were a major tie between Créme Caramel LA and Sweets for the Soul.  They both had different kinds of desserts.  Créme Caramel LA specializes in bread puddings and Créme Caramel that are custards with the perfect blend of sweetness without being too heavy that are redolent with vanilla and other spices.  I briefly interviewed the owner and you can see the video (Créme Caramel LA) cherrylosangeles @youtube. Sweets for the Soul had a shortbread cookie that has a decadent layer of caramel and milk chocolate that knocked it out of Paramount studios.  I kept saying that I was too stuffed to eat another bite but my hand out of it's own volition kept bringing it to my willing mouth to savor the crunchy cookie.  LOVE them both and refuse to choose!  They both appeal to different moods and taste desires so they are my new love replacing .. cupcakes! <scream>  Who knew that anything could replace my love affair with the cupcake it's been so long and we've been in a committed relationship but .. well it's over!  tee hee
My favorite restaurant is RockSugar I know it's an old favorite since I go so often the chef knows my name but what can I say good is GOOD and they are Great!  They served up a Indonesian spicy shrimp that sadly I was unable to eat because of allergies but everyone raved about.  It was also impressive that Chef Mohan ran his booth like he was launching the space shuttle.  Everything went off without a hitch with fast service and the shrimp came out looking as good as at the restaurant!
But it wasn't just food but also music, drinks and fun giveawas!  I tried my first Svedka Colada Vodka having a booth for the first two days with a fun tshirt (see how it's made at Svedka Tshirt cherrylosangeles @youtube), photo and three tastings of their newest drink (review on Have you tried Svedka Colada Vodka cherrylosangeles @youtube).  It was really tasty and I've added this to my favorite drinks!
I spent some time being serenaded by the Mariachi Band at the Hoya Cafe @youtube and briefly chatted with one of the chefs with a very sexy charming accent and got to try his fresh strawberry leche cake (very good!)!
All in all a great weekend that will take me a few days to recover from eating that much food!