IndieCade Festival 2017 is accepting submissions for festival and showcases for East and Europe
IndieCade is a great platform for independent game makers from across the world that has a competition to showcase indie games and interactive media with innovative games unlike anything you might see anywhere else.
Who:               Independent Game Developers, Designers, and Artists
What:                         Games and Interactive creative. Finished games as well as work-                            in-progress projects can be entered.
When:             Regular Submissions are due by April 30, 2017
Late Submissions are due by June 15, 2017
Where:            www.IndieCade.com/Submissions
Details:           For complete details, submission criteria and how to submit your                              game, visit www.IndieCade.com/Submissions.
ABOUT INDIECADE
Applauded as the "Sundance of the videogame industry," IndieCade supports independent game development globally through a series of international events highlighting the rich, diverse, artistic and culturally significant contributions of indie game developers. IndieCade's programs are designed to bring visibility to and facilitate the production of new works within the emerging independent game community. Annual events include IndieCade East, IndieCade Europe, IndieCade's Showcase @ E3, and IndieCade Festival, the largest gathering of independent game creators in the nation.
What can I say but when I'm in my video game zone don't disturb me.  I was reliving childhood glory playing one of my favorite all time
game Area 51 at the STiKS Arcade Charity Gaming Gala.  I must have been looking pretty good since I had two guys chat me up but when your in the zone with BOTH guns in your hand taking out aliens … well my mind was on the high score!   It's sort of funny since I've been looking to date but I just wasn't in a 'flirty' mood I suppose.  I was
polite to everyone I met but the games were quite intoxicating.  It reminded me of going to the traveling fairs back home in Iowa that sprung up during the summer and fall with games, people and fun.  As a kid my dad would take me & my younger sister to the arcade on Saturday afternoons.  He'd give us about $10 each to play what we wanted and I remember walking around the arcade plotting out what games to play and rather to play a new game that I might lose immediately or stick with the games that I could get the most bang for the 'buck' (so to speak).  I could never resist alien games so Galaga will always have a special place in my heart.  It was so much fun to walk round and round reliving memories of whiling away hours playing Galaga trying to avoid being destroyed or captured.  It of course made me think of
Tron not just the movie but the game and the weird graphics .. well just a weird game where (if I remember correctly) shards of glass (??) and trying to race the motorcycles before getting crunched.  I liked the game but the game never liked me since I always got killed immediately!   It's so funny that I still remember what the game looked like and with the huge gamestick and all the pictures around it.  It was like the people who designed the movie were told to make really tacky wallpaper!    It's sort of funny but I haven't played, seen or thought of most of these games in years but seeing Galaga made me think of them and made me want to play them again!  Anyone else have fond memories of the arcade???  Or am I just the only geekette that still loves the old computer graphics??   If I could transport a handheld video game to myself back than I bet it would have BLOWN my mind!!!
Who's your favorite James Bond 007?   Mine is Roger Moore the James Bond I grew up so suave, sexy and of course the charming accent <sigh>
I'm excited to celebrate 50 years of Bond at SDCC 
You can figure that out with the release of the Bond 50 Blue-Ray collection that will be released on September 25, 2012 and if you pre-order the set at Comic-Con you'll get an exclusive limited edition Bond 50th Anniversary t-shirt!  You can't beat that with an Aston Martin! Wonder why I mentioned Aston Martin WELL if your in San Diego from July 11 – 15, 2012 you'll get to sit your tush in one of the famous vehicles featured in past Bond 007 Films.  Each day will have a new vehicle as well as props from the Bond archives from all 50 years of the iconic franchise!  Make sure you visit booth #3528 daily so that you are able to take a photo with the vehicle (of the day) and have it uploaded instantly to your social media profile with RFID technology!
I wonder which of the iconic cars will be in attendance?  They could be anything from an Aston Martin to Jaguar (see list of vehicles with movies).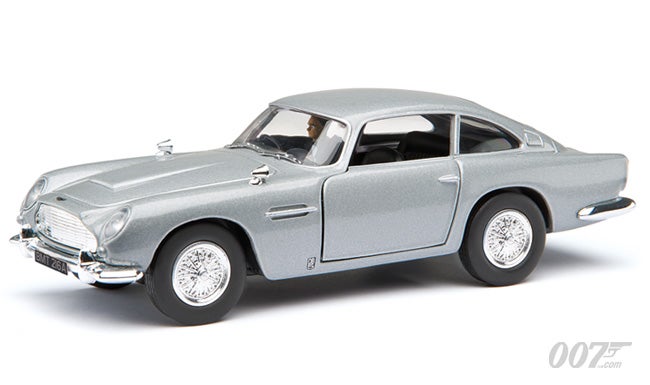 BOND 50 features all 22 classic films on Blu-ray neatly packaged into one cool, sleek collectable box-set. The collection marks the debut of nine James Bond films previously unavailable in high definition Blu-ray and comes with a dossier of more than 122 hours of bonus features.
MGM and Twentieth Century Fox Home Entertainment Comic-Con International at the San Diego Convention Center