The Forum, "Expanding the Conversation: Asian Americans in Media," is Designed to be a Solutions-Oriented Conversation
About the Status of Asian Americans Moving the Needle on Diversity and Inclusion in Hollywood is taking place on November 2nd. I'm very excited about this panel talking about the lack of diversity for Asian actors sponsored by Comcast NBCUniversal and the Center for Asian American Media.
"People are hungry for authentic representations of Asian Americans," Stephen Gong, CAAM's Executive Director, said. "CAAM is extremely proud to present this forum during a pivotal time in our nation. We believe that positive social change takes place not from above, but from within, from many local actions occurring simultaneously. We hope this conversation will spark real change within the media industry."
Panelists for This Forum Include Sandra Oh (Sideways, Grey's Anatomy), Grace Lee (Peabody Award-winning director of American Revolutionary: The Evolution of Grace Lee Boggs), Karen Horne (SVP, Talent Development & Inclusion, NBCUniversal) and the moderator Richard Lui (MSNBC Anchor). This panel of talent from in front and behind the camera will offer will have a conversation about working in Hollywood.
It's an important topic as our nation becomes more diverse and entertainment has to appeal to a global market. I strongly disagree with the belief that everyone's default is a white man/woman. I enjoy seeing people of not only diverse backgrounds but telling stories from their point of view. It's been over twenty years since an Asian American had a series on network TV and with the success of Fresh Off the Boat, Dr. Ken and Quantico hopefully will encourage Hollywood to not whitewash stories. If you look at the demographics Asians make up the largest growing ethnic group in the United States and more than half of the nation's children under 18 are expected to be part of a minority race or ethnic group by 2020 (US Census). This is why Asian Americans and Pacific Islanders are insisting on having a conversation about why their voices should be heard and seen!
Karen Horne is the Senior Vice President, Programming Talent Development and Inclusion for NBC Entertainment and Universal Television Studios. Horne oversees in-front-of and behind-the-camera diversity efforts for NBC and Universal Television. NBC's Writers on the Verge Program, the Emerging Directors Program, nationwide talent search StandUp NBC, NBC's Late Night Writers Workshop and the NBCUniversal Short Film Festival are among the more than 20 programs she heads while also overseeing NBC's Diversity Staffing Initiative and working with the creative programming team to identify diverse development.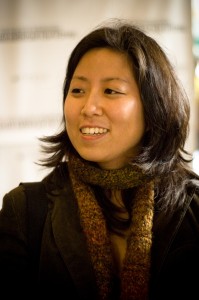 Grace Lee directed the Peabody award-winning documentary AMERICAN REVOLUTIONARY: THE EVOLUTION OF GRACE LEE BOGGS that was broadcast on the PBS series POV. Her other documentaries include THE GRACE LEE PROJECT, MAKERS: WOMEN IN POLITICS and OFF THE MENU: ASIAN AMERICA. Her other directing credits include the feature film JANEANE FROM DES MOINES, which premiered at the 2012 Toronto Film Festival as well as AMERICAN ZOMBIE which premiered at Slamdance and is distributed by Cinema Libre. She is currently a Women at Sundance Fellow.
Sandra Oh was born and raised in Ottawa, Canada, Sandra Oh moved to Los Angeles in 1996 to begin the first of seven seasons as Rita Wu, the smart and sassy assistant on the HBO comedy series, Arli$$, for which she won a Cable Ace Award for Best Supporting Actress in a Comedy. She has been nominated for five Emmy Awards and won a Golden Globe Award (Best Actress in a Supporting Role), a Screen Actors Guild Awards (Outstanding Performance by a Female Actor/ Cast in a Drama Series) and a Diversity Award (2005 Creative Liberty Award) for her portrayal of Cristina Yang on Grey's Anatomy. Ms. Oh jumped the pond for SKY1's Thorne: Scaredy Cat, which aired in the US on Starz Encore. Sandra is currently guest starring on ABC's American Crime. Ms. Oh's recent theatre work includes Julia Cho's Office Hour, which premiered at SCR this spring and will be at the Public in 2018. As well as an upcoming production of Hansol Jung's Wild Goose Dreams at La Jolla 2017. She has starred in productions of Death and the Maiden at Victory Gardens in Chicago, Diana Son's Stop Kiss and Satellites at the Public in NYC, Jessica Hagedorn's "Dogeaters" at La Jolla Playhouse and Oleanna at the Grand theatre and National Arts Centre in Canada.
Richard Lui is a journalist and news anchor for MSNBC. Before in 2007 at CNN Worldwide, he became the first Asian American male to anchor a daily, national cable news show.
The Center for Asian American Media (CAAM) is a nonprofit organization dedicated to presenting stories that convey the richness and diversity of Asian American experiences to the broadest audience possible. We do this by funding, producing, distributing and exhibiting works in film, television and digital media. To learn more, visit www.caamedia.org. #storiestolight
NBCUniversal is one of the world's leading media and entertainment companies in the development, production, and marketing of entertainment, news, and information to a global audience. NBCUniversal owns and operates a valuable portfolio of news and entertainment television networks, a premier motion picture company, significant television production operations, a leading television stations group, world-renowned theme parks, and a suite of leading Internet-based businesses. NBCUniversal is a subsidiary of Comcast Corporation. To learn more visit: www.nbcuniversal.com
About the NBCUniversal Talent Infusion Programs (NBCUNI TIPS)   Since 2000, NBCUniversal has been dedicated to discovering and nurturing on screen and behind-the-camera talent of diverse and inclusive backgrounds through the NBCUniversal Talent Infusion Programs (NBCUNI TIPS). NBCUNI TIPS are amongst the most extensive and robust diversity and inclusion programs in the television industry. They feature 21 programs including the Writer's on the Verge Program, Diverse Staff Writer Initiative, Emerging Director Program, StandUp NBC nationwide search for stand-up comedians and the NBCUniversal SHORT FILM FESTIVAL that celebrates diverse stories. Program alumni are celebrated producers, writers, directors and actors in the entertainment industry who have gone on to win Academy Awards®, Emmys, Golden Globes and SAG Awards. For more information, visit NBCUniTIPS.com. #nbcunitips