What does America mean to me? It's a question that we all ask ourselves at times when we read the paper, watch the news or just listen to what people in "MAGA" hats say to our faces. Well STARZ is putting money to ask US Students to answer the question with a spoken word contest to win $25,000 scholarship before their new documentary series 'America To Me' premiers on August 26th (details below). STARZ is partnering with Emmy Award®-Winning Filmmaker Steve James and Participant Media on the 10 episode series that starts Sunday, August 26 at 10 PM ET/PT.
"This spoken word contest encourages students to share, in their own words, what it's like to live and learn in America today," said Alison Hoffman, Chief Marketing Officer for Starz. "It's illuminating to hear the students of Oak Park tell their stories in the series, and we look forward to hearing different perspectives from students around the country."
If you haven't heard of the new limited series 'America to Me' follows suburban Chicago school Oak Park and River Forest High School from students to teachers to administrators who attend and work at the country's highest performing and diverse public school for a year. "America to Me" made its world premiere with the first five episodes at the 2018 Sundance Film Festival in the new "Indie Episodic" category and previews were shown on Full Frame and AFI DOCS. They will show the racial and educational inequality (the long-held 'separate but equal') that stems from race and class that create generations of people not able to get the opportunity for success. It's the same old song with today's teenagers dancing to a new beat that the US education continual fail by accident or design (I believe by design).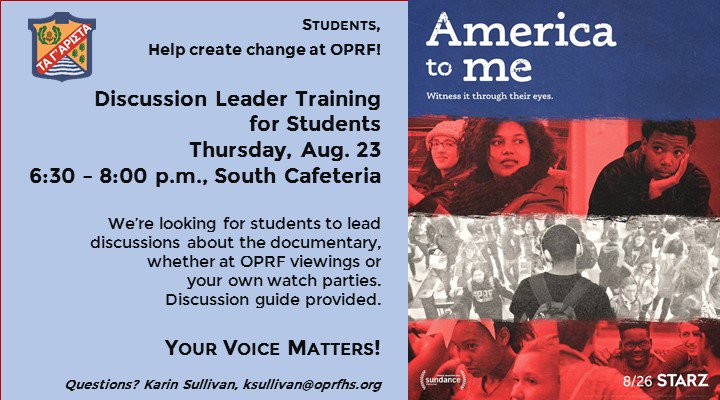 I am very curious what James will see and show how the funding of schools are inherently unfair and penalize people of color, the poor and even middle class. If you are lucky enough to send your child to a school with enough rich/affluent parents who are able to 'gift' the school or just their child's class is not easily quantified.
It's why I've always felt that all schools should have a base no matter the tax bracket of the area to educate all children equally. Education shouldn't just be having the bare minimum of old books, broken desks/chairs and no enrichment programs. I'm sure like many you have opinions about what needs to be changed, replicated, done away with or are working in the school system locally or nationally. I think we should examine successful education programs across the world and import to the USA from children learning multiple languages to how STEAM is taught. If you want to talk join others to share your thoughts http://www.participant.com/AmericaToMe.
It's open to students between 14 – 19 to record a 60-second original spoken word video that answers the question 'What does America mean to me?' Entry submissions are being accepted through October 7 via Instagram or Twitter using #AmericatoMeContest and #STARZ hashtags or by uploading it to  www.AmericaToMe.com.
An esteemed panel of judges will select the top five finalists whose videos will be posted on AmericatoMe.com on October 14, giving America the opportunity to vote and select a winner through October 22. The winner of the $25,000 scholarship will be announced on October 28.
The "Share Your Voice" contest is an extension of Starz and Participant Media's social impact campaign partnership designed to encourage candid conversations about racial equality. Together, they joined forces to create a downloadable Community Conversation Toolkit and, alongside the release of each new episode, the campaign will host a high-profile screening event in one city across the country. Over the course of the 10 weeks, these events will seed a timely national dialogue anchored by the series, and kick off activities across the country to inspire students, teachers, parents and community leaders to develop local initiatives that address inequities in their own communities. Join the conversation at http://www.participant.com/AmericaToMe.
"America to Me" Online
For more information, go to the official STARZ Facebook Page and follow @STARZ on Twitter and Instagram. Join the conversation with #AmericaToMe and #STARZ.
Website: https://www.starz.com
About Starz
Starz (www.starz.com), a Lionsgate company (NYSE: LGF.A, LGF.B), is a leading global media and entertainment company that provides premium subscription video programming on domestic U.S. pay television networks and produces and distributes content for worldwide audiences, including its investment in the STARZ PLAY Arabia OTT service. Starz is home to the flagship STARZ® brand and STARZ ENCORE channels and provides high-quality, entertaining premium subscription video programming with 17 premium pay TV channels and associated on-demand and online services, including the STARZ app. Sold through U.S. multichannel video distributors, including cable operators, satellite television providers, telecommunications companies, and other online and digital platforms, Starz offers subscribers more than 5,000 distinct premium television episodes and feature films every year and up to 1,500 every month, including STARZ Original series, first-run movies and other popular movie and television programming.