I'm so excited to see Archer Live this weekend thanks to my friend Kieran who I met at SDCC a few years ago.  Hmmm who to take ….
It's the perfect opportunity to meet other Archer fans and maybe a geek connection??  Any man who finds Archer funny is my kind of guy since they must have a wicked sense of humor, a bit racy and of course an animation fan!
It fits in with my dating philosophy that your ideal person is someone who has common interests as opposed to trying to change someone to be your 'idea' dream person.  I am REALLY into science fiction geek life so realize that I need to meet someone at one of the many conventions that I go to in SoCal and am planning to expand to other parts of the country in case my guy is in Nevada or Washington or New York.  I know my Han Solo, Blake, Lando or Doctor Who is somewhere and looking for me.  We just have to find each other .. maybe at Archer Live or elsewhere.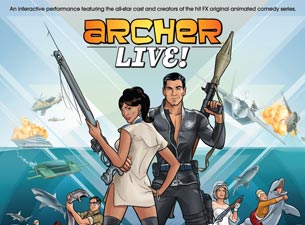 The Archer Live! Tour, featuring the all-star cast and producers of FX's hit original animated comedy series, is coming to Club Nokia on Saturday, November 9th at 8:00pm. The Archer Live Tour is a must-see for every Archer fan!
Archer Live! features a moderated discussion, a live reading of classic scenes from the Emmy® Award nominated series, and an audience Q&A with the all-star cast where fans will have a chance to get the inside scoop on their favorite show. Talent appearances include H. Jon Benjamin as Agent Sterling Archer, Aisha Tyler as Agent Lana Kane, Amber Nash as Pam Poovey, Lucky Yates as Krieger, and executive producer Matt Thompson.