I'm counting the days down until the Starz premier of American Gods on Sunday, April 30th in the U.S., and Amazon Prime Video internationally on Monday, May 1st. While I'm waiting am curious as a cat about the Neil Gaiman deal has with Freemantle Media North America. The first look deal after the first season of 'American Gods' means that Neil will be getting a lot of new fans since the show looks GREAT!
"Neil Gaiman is one of the most distinctive writers of our time and we've been incredibly fortunate to be entrusted with his vision while adapting American Gods. Our experience together has proven more than collaborative – it's a shared ambition to create, develop and produce singular, bespoke content. We couldn't be happier to diversify and expand our relationship to future projects", Craig Cegielski, co-CEO, FremantleMedia North America
I wonder what the next project will come a live on TV from the author? FMNA is expanding with more scripted TV projects and with a catalog as rich as Neil and the strides FX has made TV shows can rival a lot of films. The multi-year first look agreement is a continuation of working on 'American Gods' and will include not only his novels, short stores and more for TV. It will also allow the adaptation of 3rd party source material and intellectual properties and includes all of his work as a writer and producer with his Blank Corporation and Cat Mihos (Director of Development)

"Working with my friends at FremantleMedia on shepherding American Gods to the screen has been exciting and delightful way to spend the last three years. I've learned to trust them, and to harness their talents and enthusiasm, as they've learned to harness mine. They don't mind that I love creating a ridiculously wide variety of things, and I am glad that even the strangest projects of mine will have a home with them. American Gods is TV nobody has seen before and I can't wait to announce the specifics behind what we have coming up next", Neil Gaiman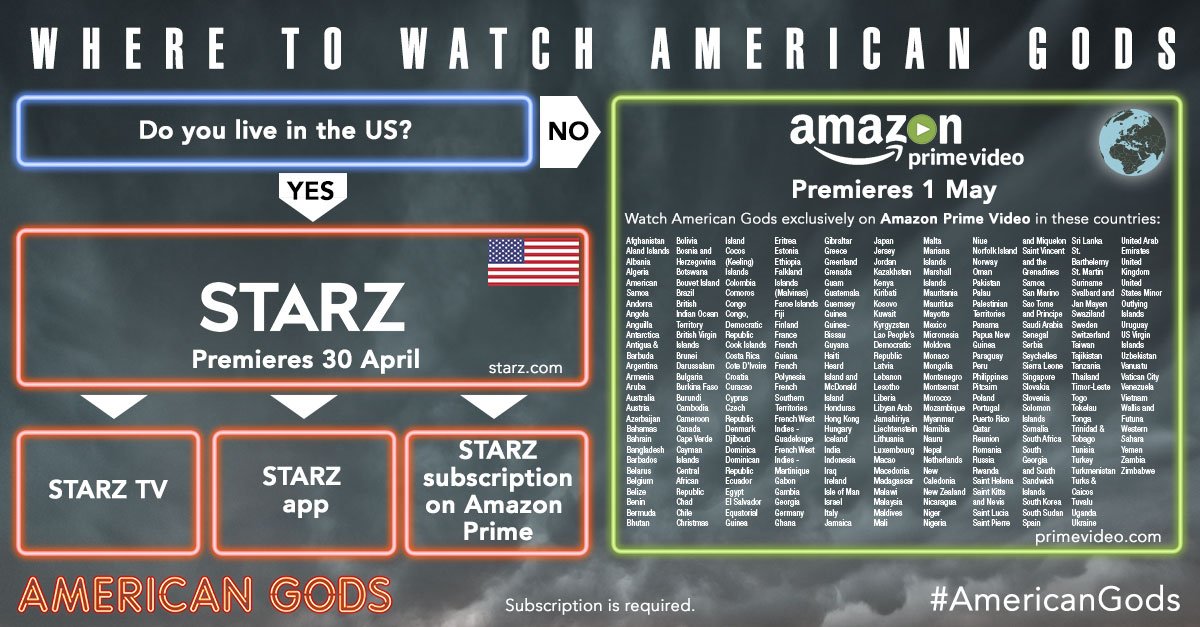 ABOUT FREMANTLEMEDIA NORTH AMERICA
FremantleMedia North America (FMNA) is a premier content studio. FMNA and its portfolio of companies, including Random House Studio, Original Productions and 495 Productions, create entertaining and innovative scripted and alternative programs for network, cable, syndicated and digital partners. Its diverse, critically-acclaimed and award-winning slate includes America's Got Talent (NBC), Family Feud (SYN), Let's Make A Deal (CBS), The Price Is Right (CBS), The Great Christmas Light Fight (ABC), Deadliest Catch (Discovery), Jay Leno's Garage(CNBC) Married to Medicine (Bravo), Martha and Snoop's Potluck Dinner Party (VH1), Blue Collar Millionaires (CNBC), Storage Wars (A&E), Celebrity Family Feud (ABC), To Tell The Truth (ABC), Match Game (ABC) and American Gods (STARZ), among others. FMNA also operates BUZZR, a retro game show channel that launched in 2015, and is available in the top 10 U.S. markets, and 65 percent of the country.
FMNA is the U.S. arm of global media giant FremantleMedia, which includes a distribution arm, FremantleMedia International, a digital and branded entertainment division and a kids & family entertainment business.  As one of the world's largest and most successful creators, producers and distributors of TV  brands in the world, FremantleMedia's comprehensive global network has operations in 31 countries, creating over 10,000 hours of programming a year, rolling out more than 45 formats and managing over 350 individual titles. The company also distributes more than 20,000 hours of content in over 200 territories. For more information follow us @FMNATV and visit our Facebook page.
ABOUT NEIL GAIMAN
Neil Gaiman is the award-winning author of books, graphic novels, short stories, and films for all ages, including the Oscar nominatedCoraline, and Norse Mythology, currently the #1 work of fiction on both The New York Times and London Times Best Seller Lists. Some of his most notable titles include the groundbreaking Sandman comics series, The Graveyard Book (the only book ever to win both the Newbery and Carnegie medals), and The Ocean at the End of the Lane, the UK's National Book Award 2013 Book of the Year. The film adaptation of his short story How to Talk to Girls at Parties  will be in released in 2017. Born in the UK, he now lives in the United States.