Don't let Mother's Day be a drag. Head down to RuPauls Drag Con for fun, lipstick, laughter and high heels! and bring your Dad and kids too!
If you want to figure out a fun way to spend your Mom or friends head to the Los Angeles Convention Center for the final day of RuPauls DragCon 2016! The second annual convention full of love, laughter, lipstick, mascara AND sky high heels!
I attended my first RuPaul Dragcon and had a blast! I was able to speak with the team behind Words of Wonder (organizer) and producer of RuPaul Drag Race on Logo as well as entrepreneurs and attendees who love RuPaul and drag!
Bring some cash because they have some fun items for sale to appeal to the crafty (Crystal Ninja), beauty (Crystal Lipz) and the cast/director of the indie documentary (Dressed as a Girl). Check out the interview with Steve Galindo the Style Guyde and I on my youtube channel CherryLosAngeles.
Buy a ticket online or at the convention center and enjoy a day of fun! This family friendly event has panels for fans of all ages from reading to kids to being a supportive mom of t
heir drag baby (shout out for Mother's Day) to making a living (I need to sit in on the panel got to make my paper!). Did I mention a dance lesson? I have Sunday's schedule below and make sure you say 'hi' as I teeter along in my baby heels on Sunday!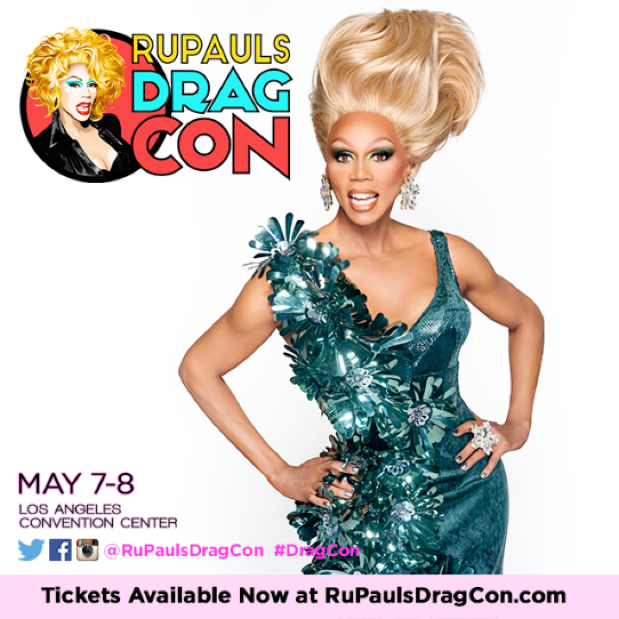 Brand Me!
Having trouble getting your name out there? Our panel of brand boosters shows you how to stop fitting in and start standing out.Panelist AB Soto, Laganja Estranja, Manila Luzon, Moderated by Jackie Huba of Forbes
Drag in the Family
Join Detox and his mother along with Michelle Visage and her daughter Lillie for an intimate conversation on how drag plays an important part of their family. Moderator: Michelle Visage and her daughter
Dance Your Padded A** Off!
Bust a move as our panel covers bucking and twerking and things of that nature. Panelist:  Chi Chi Devayne, Kennedy Davenport, Coach D (Bring It), and Jamal Sims (Step It Up)
 The Business of Drag: Life Beyond the Nightclubs
Learn how to build your brand, navigate the marketplace and maximize your earning potential. Or in the words of economist RuPaul: "Scamming money don't make no money, but freaky money do get the money." Panelist: Latrice Royale and Mimi Imfurst moderated by Merle Ginsburg
The Library Is Open: The Art of Reading 
Trigger warning! Shade will be thrown as some of Drag Race's most notorious readers school the children in the fine art of reading. Darienne Lake, Jujubee, Trixie Mattel, Mariah Balenciaga, and Robbie Turner. Moderated by Wendy Ho
The Ru-Union (announced)
You're cordially invited to the most epic high school reunion of all time. Join us as we take an episodic trip down memory lane to the first season of RuPaul's Drag Race and find out what it was like to be an original member of Drag Race herstory. The panel includes living legends Ongina, Victoria Porkchop Parker, Jade Sotomayor, Tammie Brown, and Merle Ginsberg. Moderated by the incomparable John Polly.
Size Queens: Big Girls Just Wanna Have Fun!
Meet some of the biggest and baddest girls in the game as they discuss body positivity, self-love, and working what your mama gave you.  Darienne Lake, Ginger Minj, Jiggly Caliente, Stacey Layne Mathews, with Ashley Nell Tipton (Project Runway Winner), Moderated by Frank DeCaro
The Drag Queens of Comedy
If laughter is healing, then these funny b*tches just might find a cure for cancer. LOL withPanelist: Bob The Drag Queen, Heklina, Jackie Beat, Peaches Christ, Sasha Soprano. Moderated by Alec Mapa (Baby Daddy)
Theater Queens!
All the world's a stage and comedy greats Love Connie and Drew Droege are merely players. Join us for a sit-down like none other, as these two Marys are joined by DJ Paul V. of Dragstrip 66 and The Cavern Club Theatre to discuss how they been making underground theater cool again. Panelist: Drew Droege, Love Connie, and Dj Paul V.  moderated by Billy Francesca
#Famous: The Secrets of Social Media Success
Social media mavens Todrick Hall, Camm Jay, Manny Mua, and Steven Joseph share their secrets on how to make a big impression in a world dominated by social media.  Moderated by Nadya Ginsburg,
Transcendent: Meet the Ladies of AsiaSF
The cast of the hit FUSE TV series, Transcendent, discuss what it's like to be young, talented and trans as they prepare to launch the second season of their GLAAD Media Award nominated docuseries. Join Bambiana, Bionka, Nya, LA, Xristina with founder and CEO  of Asia SF Larry Hashbarger, moderated by Writer, Director, Producer, and Activist Andrea James
Celebrity Impersonators: How to Lip Sync for a Living!
These queens have turned lip syncing into an art form and make a living doing it better than everybody else.  Read their lips as our panel discusses what makes for a killer lip sync.  Panelist: Chad Michaels, Coco Montrese, Derrick Barry, Hot Chocolate, and Venus D'Lite. Moderated by Christian Zamora of Buzzfeed
Untucked: RuPaul's Drag Race Season 8
Join the queens of season 8 as they share what's it's like to untuck backstage while RuPaul and the judges deliberate. Audience participation encouraged.
WOW Presents Round Table
Join this star-studded Q&A with your favorite  WOWPresents stars. All T, All Shade. Panelist: Alyssa Edwards, Alaska Thunderfuck, Ts Madison, James St. James, Raja, Jodie Harsh, Jason Carter, Bryce Eilenberg, Miles Davis Moody
Milk's LegenDairy Looks
Famous for her unique style and wicked sense of humor, the Dairy Queen shares how to build a crème de la crème ensemble and what type of makeup to paint that barn with. Lactose intolerant fans are welcome.
Wigstock: The Movie – 20th Anniversary Screening
This joyous documentary captures New York's revolutionary drag music festival Wigstock, held annually on Labor Day weekend from 1984 to 2001. Iconic performances and commentary by RuPaul, Lady Bunny, Jackie Beat, Alexis Arquette, Joey Arias, Lypsinka, Mistress Formika, Taboo!, Dee-Lite, Leigh Bowery, Crystal Waters, and others testify to the importance of this event in Drag  history. Taking us behind the scenes, this historic film celebrates the insights of its performers about the importance of transgressive gender expression and offers visions of the festival's spirited audience and community. Q&A Following the film with director Barry Shils and additional guests TBA.
Big Freedia Sneak Peek
You better sissy your bounce to a special sneak peek of the latest season of Big Freedia: Queen of Bounce followed by a Q & A with the queen diva herself. Who knows, she might even show us a few dance moves in the process! This is one panel that's sure to put the werk in your twerk.
Viva
VIVA stars Héctor Medina as Jesus, a young hairdresser working at a Havana nightclub that showcases drag performers, who dreams of being a performer himself. Encouraged by his mentor, Mama (Luis Alberto García), Jesus finally gets his chance to take the stage. But when his estranged father Angel (Jorge Perugorría) abruptly reenters his life, his world is quickly turned upside down. As father and son clash over their opposing expectations of each other, VIVA becomes a love story as the men struggle to understand one another and reconcile as a family. VIVA was a hit at the 2015 Telluride Film Festival and is Ireland's entry for the Best Foreign Film Academy Award this year.
ABOUT RUPAUL
RuPaul skyrocketed to international fame with the release of the album Supermodel of the World, which was followed by roles in over 50 films and television sitcoms, the host of The RuPaul Show (VH1), morning drive radio on WKTU & WNEW and currently hosts the podcast What's the Tee? With Michelle Visage. RuPaul has been a spokesperson for WebEx, Rockport and was awarded a seven-year contract as the "first face of M.A.C. Cosmetics." Wax portraits of RuPaul are displayed at Madame Tussauds in both NYC and San Francisco. RuPaul is the author of the autobiography Lettin' It All Hang Out and Workin' It. Released in 2014, "Born Naked" is RuPaul's 10th and highest charting studio album to date. RuPaul is returning as a judge for the second season of the hit GSN series, Skin Wars. RuPaul is Executive Producer and Host of the global phenomenon "RuPaul's Drag Race" on Logo, entering its eighth hit season.
Tickets are available at rupaulsdragcon.com starting at $30. Fans can purchase photos and autographs at the show. For more info follow DragCon @RuPaulsDragCon or check out the official Facebook Page
ABOUT WORLD OF WONDER
Innovative production company World of Wonder is behind such entertaining and award-winning hit series as RuPaul's Drag Race (Logo), Million Dollar Listings (Bravo), #CandidlyNicole (Vh1), Big Freedia (Fuse), and Island Hunters (HGTV). Million Dollar Listing NY is a 2015 Emmy® Award nominee for Outstanding Unstructured Reality Program. RuPaul's Drag Race won the 2014 TCA Award for Outstanding Achievement in Reality Programming. Big Freedia (Fuse) won the 2014 GLAAD Media Award for Outstanding Reality Program. World of Wonder has also created award-winning films and documentaries such as Inside Deep Throat, The Eyes of Tammy Faye, Wishful Drinking, Monica in Black and White, and The Last Beekeeper, which won an Emmy® Award for Outstanding Nature Programming. Seven of their films have premiered at the Sundance Film festival including Becoming Chaz and Party Monster, the documentary, and feature film starring Macaulay Culkin. World of Wonder has created a substantial digital footprint with its YouTube channel WOWPresents, along with an award-winning blog, The WOW Report. Co-founders Randy Barbato and Fenton Bailey authored The World According to Wonder, celebrating 21 years of production, which can be found online at http://worldofwonder.net/. Randy and Fenton were honored with the IDA Pioneer Award in December 2014, celebrating exceptional achievement, leadership, and vision in the nonfiction and documentary community.