Celebrate National Coming Out Day with the cast and creators of the ABC comedy The Real O'Neals on October 11th with the PaleyLive LA Event. I have to say that I LOVE this series because I grew up as a good Catholic girl in the midwest and totally get this series. From the 'I'm more Catholic than you' rivalry between

the mothers to everyone being 'too polite' so gossip is always said in a 'I'm only concerned'.
When I learned of the series coming to ABC I m
ust admit I thought it would be lots of mean Catholic jokes that would offend my lapsed soul. Instead it's a series about a good Catholic Boy  who happens to be gay and his close knit family navigating how they deal with it as they fall from the superior path. Every episode had me rolling with delight remembering our Monseigneur coming to my grandparent's house for Sunday supper and prayer service with 'select' friends invited . Monseigneur Meinke LOVED my grandma's cooking!
Even if you aren't Catholic or gay this series handles some serious subjects with a light touch of humor carried off by a talented cast. They've managed to make me laugh with episodes dealing with crushes, first gay boyfriend, divorce, favorite child and the general chaos of a loving Catholic Midwest family!
I'm very excited that the cast and creatives are coming to the Beverly Hills Paley Center stage to screen the S2 premier and talk about the show. I'm hoping to cover the red carpet to ask a few questions about the series, how they found a home on ABC and clues for the upcoming season premiering October 11th.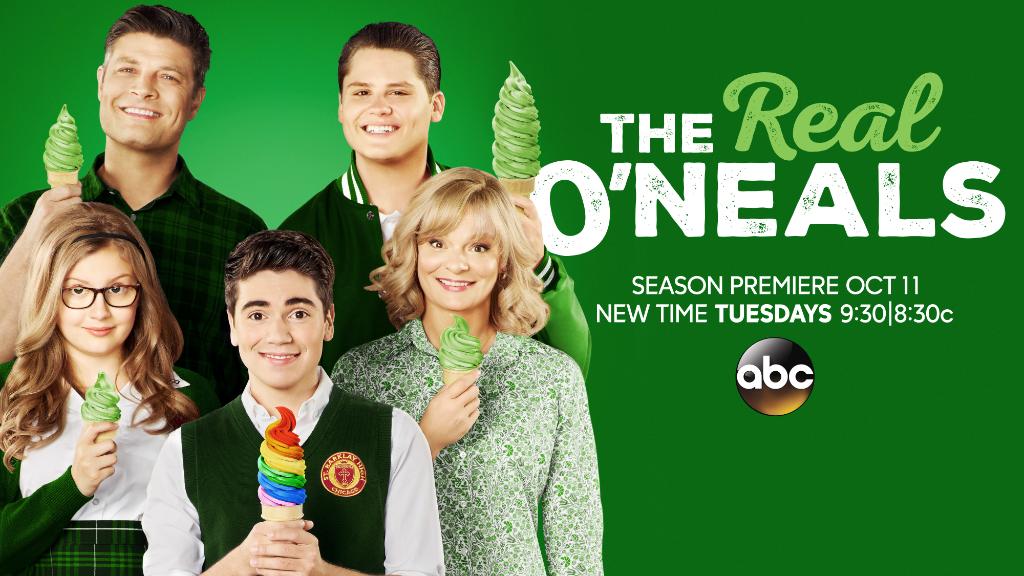 In conjunction with National Coming Out Day, The Paley Center for Media will present a special season two premiere event with the cast and creatives of ABC's The Real O'Neals on Tuesday, October 11, 2016 at the Paley Center's Beverly Hills location.
The PaleyLive LA program is open to the public and will feature a season two premiere screening, panel discussion, and interactive Q&A segment with the audience. The full panel event and clips from the program will be available to stream exclusively on Hulu at a later date. The panel conversation will also be added to the Paley Center's LGBT Archive.
In season one of The Real O'Neals, the image-obsessed Irish-American Catholic mom (Martha Plimpton) makes every effort to hide her family's troubles from public scrutiny, including a pending divorce and her teenage son's recent coming out.
Tickets are currently on sale to Paley Supporting and Patron Members. Tickets go on sale to Paley Individual Members beginning Saturday, September 24 at 9:00am PT and to the General Public on Monday, September 26 at 9:00am PT. Participants are subject to change. For more information and panel updates, please visit paleycenter.org
ABOUT THE PALEY CENTER FOR MEDIA: The Paley Center for Media, a 501(c)(3) nonprofit organization with locations in New York and Los Angeles, leads the discussion about the cultural, creative, and social significance of television, radio, and emerging platforms for the professional community and media-interested public. Drawing upon its curatorial expertise, an international collection, and close relationships with the leaders of the media community, the Paley Center examines the intersections between media and society. The general public can access the collection and participate in programs that explore and celebrate the creativity, the innovations, the personalities, and the leaders who are shaping media. Through the global programs of its Media Council and International Council, the Paley Center also serves as a neutral setting where media professionals can engage in discussion and debate about the evolving media landscape. Previously known as The Museum of Television & Radio, the Paley Center was founded in 1975 by William S. Paley, a pioneering innovator in the industry. For more information, please visit paleycenter.org