You can complete your DC Universe Original Movie collection with the 10th Anniversary Collection out on August 15th (Digital) and November 7th (Blu-Ray) from Warner Bros Home Entertainment and DC Entertainment. The collection will comprise of all 30 animated films and a All-New special feature exclusive to the box set.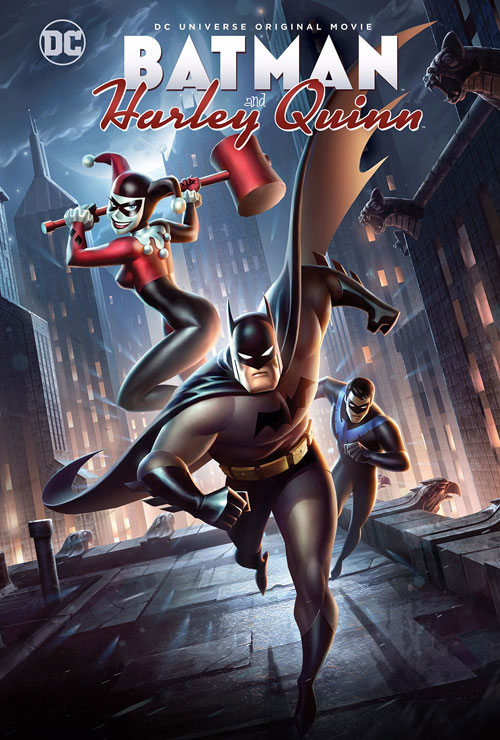 It's been ten years of animation with heroes and villains comprising a DC Universe for fans of all ages. What is included in the box set is 30 films, 5 animated shorts, new special features andexclusive collectible items.
The first animated film was Superman Doomsday that came out in 2007 that is the bedrock and inspiration of the DC library animated film universe. DC Entertainment and Warner Bros. Animation work together to create DC Super Hero stories (Superman Doomsday, Justice League: The New Frontier, Batman: The Dark Knight Returns, Batman: The Killing Joke) to films inspired by themes from within DC history (Batman vs. Robin was inspired by "The Court of Owls," Superman vs. The Elite was inspired by What's so Funny About Truth, Justice and the American Way) to original stories (Justice League: Gods and Monsters, Batman and Harley Quinn).
The DC Universe Original Movies: 10 th Anniversary Collection will include all 30 films – from Superman Doomsday to the all-new Batman and Harley Quinn, as well as newly releasedcommemorative editions of Wonder Woman and Justice League: The New Frontier. The 32-disc box set will also include all five "DC Showcase" animated shorts – The Spectre, Green Arrow, Jonah Hex, Catwoman and Superman/Shazam: The Return of Black Adam. The details of the special features will be announced later this summer.
"It's been an amazing journey from the initial concept of bringing comic book pages to screen to the completion of 30 animated films spotlighting the mesmerizing characters and stories of the DC library," said Mary Ellen Thomas, Warner Bros. Home Entertainment Vice President, Family & Animation Marketing. "We are proud to celebrate this first decade of filmmaking with an impressive box set filled with exciting extras beyond these stunning films themselves."
The 30-film DC Universe Original Movies: 10th Anniversary Collection (Blu-ray):
1. SUPERMAN: DOOMSDAY
2. JUSTICE LEAGUE: THE NEW FRONTIER
3. BATMAN: GOTHAM KNIGHT
4. WONDER WOMAN COMMEMORATIVE EDITION
5. GREEN LANTERN: FIRST FLIGHT
6. SUPERMAN/BATMAN: PUBLIC ENEMIES
7. JUSTICE LEAGUE: CRISIS ON TWO EARTHS
8. BATMAN: UNDER THE RED HOOD
9. SUPERMAN/BATMAN: APOCALYPSE
10. ALL-STAR SUPERMAN
11. GREEN LANTERN: EMERALD KNIGHTS
12. BATMAN: YEAR ONE
13. JUSTICE LEAGUE: DOOM
14. SUPERMAN VS. THE ELITE
15. THE DARK KNIGHT RETURNS, PART 1
16. THE DARK KNIGHTS RETURNS, PART 2
17. SUPERMAN: UNBOUND
18. JUSTICE LEAGUE: THE FLASHPOINT PARADOX
19. JUSTICE LEAGUE: WAR
20. SON OF BATMAN
21. BATMAN: ASSAULT ON ARKHAM
22. JUSTICE LEAGUE: THRONE OF ATLANTIS
23. BATMAN VS. ROBIN
24. JUSTICE LEAGUE: GODS AND MONSTERS
25. BATMAN: BAD BLOOD
26. JUSTICE LEAGUE VS. TEEN TITANS
27. BATMAN: THE KILLING JOKE
28. JUSTICE LEAGUE DARK
29. TEEN TITANS: THE JUDAS CONTRACT
30. BATMAN AND HARLEY QUINN
About Warner Bros. Home Entertainment, Inc.:
Warner Bros. Home Entertainment (WBHE) brings together Warner Bros. Entertainment's home video, digital distribution and interactive entertainment businesses in order to maximize current and next-generation distribution scenarios. An industry leader since its inception, WBHE oversees the global distribution of content through packaged goods (Blu-ray Disc™ and DVD) and digital media in the form of electronic sell-through and video-on-demand via cable, satellite, online and mobile channels, and is a significant developer and publisher for console and online video game titles worldwide. WBHE distributes its product through third party retail partners and licensees.
About DC Entertainment
DC Entertainment, home to iconic brands DC (Superman, Batman, Green Lantern, Wonder Woman, The Flash, etc.), Vertigo (Sandman, Fables, etc.) and MAD, is the creative division charged with strategically integrating across Warner Bros. and Time Warner.  DC Entertainment works in concert with many key Warner Bros. divisions to unleash its stories and characters across all media, including but not limited to film, television, consumer products, home entertainment, and interactive games.  Publishing thousands of comic books, graphic novels and magazines each year, DC Entertainment is one of the largest English-language publishers of comics in the world.
DC characters and all related elements are trademarks of and ©DC Comics. (s17)
About Warner Bros. Animation
Warner Bros. Animation (WBA) is one of the leading producers of animation in the entertainment industry, producing and developing projects for multiple platforms, both domestically and internationally. WBA's TV series include Justice League Action, Teen Titans Go! and the upcoming DC Super Hero Girls and Unikitty! for Cartoon Network; Be Cool Scooby-Doo!, Bunnicula, Dorothy and the Wizard of Oz, The Tom and Jerry Show, New Looney Tunes and Wacky Races for Boomerang; Mike Tyson Mysteries for Adult Swim; Right Now Kapow for Disney XD; Green Eggs and Ham for Netflix; and Young Justice: Outsiders for the upcoming DC-branded digital service. As home to the iconic animated characters from the DC Comics, Hanna-Barbera, MGM and Looney Tunes libraries, WBA also produces highly successful animated films — including the DC Universe Animated Original Movies — for DVD, Blu-ray® and digital media. One of the most-honored animation studios in history, WBA has won six Academy Awards®, 35 Emmy® Awards, the George Foster Peabody Award, an Environmental Media Award, a Parents' Choice Award, the HUMANITAS Prize, two Prism Awards and 20 Annie Awards (honoring excellence in animation).