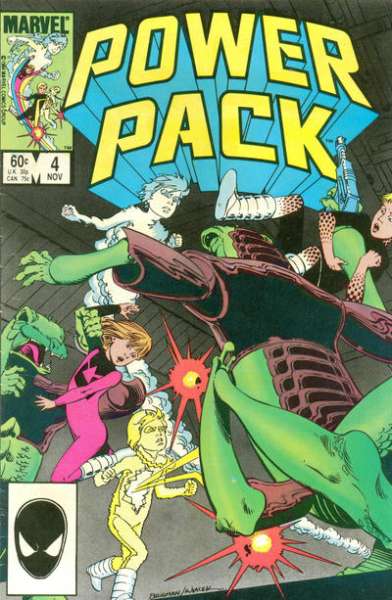 I grew up loving comic books not as a artform but just as great escapist fun.  My favorite was PowerPac about kids with kickass powers.  Hmmm I was pretty
much an exclusive lover of comics with a similar theme of the powerless gaining powers.  I think it was because I felt so invisible as a kid the plain black chunky girl who was super shy, had a horrible speech impediment and no boys ever asked me out.  Well one did but he was so creepy and weird that I decided it was better to be alone.  I mean super uber creepy ala asked me to the prom and told me I HAD to have sex with him.  Ahhh no thank you!   Really all through middle school and high school my very best friend was the
comic book guy at the shop near my school.  Instead of buying lunch at the cafeteria I'd save my money and buy the Xmen, Spiderman, Teen Titans, The New Humans, Amethyst, L.E.G.I.O.N, Longshot (major crush on him!! tee hee), Firestorm, and all the 'girl friendly' books back in the day.  I had hundreds of them all kept in little plastic packets (purchased separately) and the official box from the shop.  Looking back I probaly spent enough money to have bought a cheap crappy used car in High School … I liked my comic books more than a car so no regrets!  So imagine my pleasure when I saw that PBS was running an homage to Superheros well I was all in especially with Liev hosting … <hubba hubba>
I missed the screening on October 15th  on PBS but don't worry you can buy the DVD to see the golden age of comics from the beginning to now.  You can see a commercial on youtube to see what you missed.    It's from the Emmy Award-winning producer/director Michael Kantor (BROADWAY: THE AMERICAN MUSICAL; MAKE 'EM LAUGH: THE FUNNY BUSINESS OF AMERICA) and will have interviews from Stan Lee; actors Adam West (TV's "Batman") and Lynda Carter ("Wonder Woman"); Geoff Johns (chief creative officer, DC Comics), Jeph Loeb (head of television for Marvel Entertainment); Pulitzer Prize-winning author Michael Chabon (The Amazing Adventures of Kavalier & Clay) and cartoonist/author Jules Feiffer (the long-running strip "Feiffer"), as well as appearances by the late comic book icons Joe Simon (co-creator of Captain America) and Jerry Robinson (who helped create the Joker).   SUPERHEROES: A NEVER-ENDING BATTLE is the first documentary to examine the dawn of the comic book genre and its powerful legacy, as well as the evolution of the characters who leapt from the pages over the last 75 years and their ongoing worldwide cultural impact. It chronicles how these "disposable diversions" were subject to intense government scrutiny for their influence on American children and how they were created, in large part, by the children of immigrants whose fierce loyalty to a new homeland laid the foundation for a multi-billion-dollar industry that is now an influential part of our national identity
SUPERHEROES will be presented in three one-hour parts
PART ONE, 8 PM: "Truth, Justice, and the American Way" (1938-1958)
During the Depression, the popularity of dozens of superhero characters opens the door for a new generation of artists and writers. World War II creates a patriotic fervor for star-spangled adventurers to represent the American spirit at war and on the home front, but in the 1950s, superheroes are caught in the fire of government scrutiny and regulation. When the thrilling "Adventures of Superman" is broadcast on the new medium of television, America's first and greatest superhero leads the entire comic book industry to renewed strength.
PART TWO, 9 PM: "Great Power, Great Responsibility" (1959-1977)
In the 1960s, a new breed of superhero emerges in the pages of Marvel Comics, inspired by the age of atomic energy and space travel and, in turn, inspiring the pop culture and pop artists of the time. Spider-Man, the Hulk and others are the first to have "problems" with which an adult audience can identify, and contemporary social issues make their way into comic books. Black powerhouses such as the Black Panther and Luke Cage appear on the scene, and the pages of "Green Lantern/Green Arrow" explode with relevant storylines as comic books are forced to confront the reality of an increasingly complex world.
PART THREE, 10 PM "A Hero Can Be Anyone" (1978-Present)
Modern enthusiasm for superheroes has been embraced in all forms of media and by all demographics, beginning with the historicSuperman movie featuring Christopher Reeve as the Man of Steel. In 1986, Batman is overhauled as The Dark Knight to reflect the nocturnal underside of his character, and Watchmen bring new sophistication to comic book narratives, illuminating a violent and politicized world. In the burgeoning new millennium, superheroes have taken over popular culture with feature films, television shows and video games complementing a new generation of web-based comics that bring superhero adventures to every corner of the world.
About Author