Mark your calendars and open your wallets to support the Women's Clinic with a screening of White House Down at the Sony Lot!  Who can resist two hot guys AND helping people have access to affordable healthcare???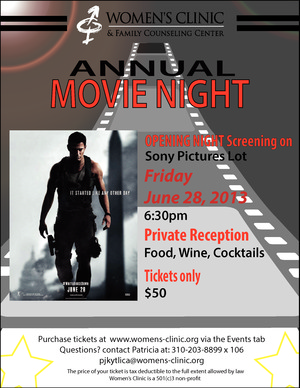 We're having MOVIE NIGHT again!
 We're screening White House Down….Friday, June 28th at 6:30 pm on the Sony Lot
PLEASE, send the invite to all of your friends.  We look forward to truly growing this event…………
We'll have yummy food at the Sony Commissary beforehand, and that's always a party…………
JOIN US !!!  We'll look forward to seeing you and sharing what YOUR contributions have made happen to date……….
THANK YOU – THANK YOU – THANK YOU
Click below to purchase your tickets

If you do not have a PayPal account, or prefer another method of payment
Women's Clinic will happily take a check made out to:
Women's Clinic (Attn: Patricia Kytlica)
9911 W.Pico Blvd
Los Angeles, CA 90035
or feel free to call in your credit card personally to
Patricia Kytlica @ 310-203-8899 ext. 106
Further instructions and directions to the event will be provided upon the purchase of a ticket