Exclusive interview with Natasha Allegri the creator of Bee and PuppyCat  on YouTube at Wondercon 2014.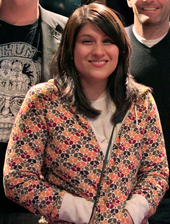 I had a fun brief chat with Natasha about her new show on YouTube called Bee and PuppyCat.  The visual appeal of the PuppyCat was obvious with the crush of fans at the Wondercon talk.  The line was around the building with people desperate to listen to the woman who's image style can be seen in the the beloved Adventure Time.  Well she's taken the irrevelent dry humor and created a female led character series on Cartoon Hangover that has a unique fun style that will appeal to animation fans of all ages!  As you can see the costumes are already being cosplayed as well as the fun items inspired by the characters which flew off the floor at Wondercon.  In our brief conversation she showed me some of the fan art she had gotten while signing autographs that shows that this story idea has really inspired her fans.  I have already watched the show and found it so cute from the choice of voice actors to the animation style it just is … cute!!! LOVE it.  I hope that if you haven't discovered the gem than I hope you'll check it out.  I love her unique quirky voice and style!
What do you think let me know in the comments below!
Bee and Puppycat is an American animated web series created and written by Natasha Allegri, and directed by Larry Leichliter. Fred Seibert serves as the series' executive producer, with producers Kevin Kolde and Eric Homan, as well Allegri co-producing the series. The series revolves around Bee (voiced by Allyn Rachel), an unemployed woman in her twenties, when suddenly she encounters a mysterious creature called PuppyCat (voiced by the Vocaloid program Oliver). She adopts this apparent cat-dog hybrid, and together they go on an intergalactic babysitting gig to pay her monthly rent.
The series currently consists of a two-part episode, which was uploaded on Cartoon Hangover's YouTube channel as two 5-minute shorts as part of Too Cool Cartoons!, as well as a 10-minute video combining the two parts. After garnering popularity online, Cartoon Hangover started its first Kickstarter project in order to fund additional episodes. The Kickstarter was started October 15, 2013, and achieved its US$600,000 goal with only 6 days left; by the end, they had raised $872,133, earning nine 6 minute episodes, of which the first would air in the summer of 2014. As of its funding date, Bee and PuppyCat became the most successful animation Kickstarter in history, the #4 film/video Kickstarter (only behind three Hollywood based projects), and the #1 Kickstarter based on a YouTube video.
Cartoon Hangover is a Frederator Studios' television channel, part of the $100 million original channel initiative, launched in February 2012. Frederator is producing two animated series exclusively for the Internet: Bravest Warriors, created by Pendleton Ward and Bee and PuppyCat, created by Natasha Allegri. Previously, they produced SuperFuckers, created by James Kochalka. Bravest Warriors premiered on November 8, 2012 and SuperFuckers premiered on November 30, 2012. The original 10-minute film "Bee and PuppyCat" premiered in two parts; part one on July 11, 2013; and part two as well as the full film on August 6, 2013. Frederator produces its fifth cartoon shorts incubator for Cartoon Hangover, which will feature 39 shorts dubbed Too Cool! Cartoons. Cartoon Hangover, Cartoon Hangover 2 and Cartoon Hangover ESP are part of the Channel Frederator Network.